Roof Cleaning
Free Estimates

Soft Washing Certified

5-Star Ratings on Google

1500+ Happy Customers

15+ Years of Experience

Competitive Pricing

100% Satisfaction Guarantee

Contractors You Can Trust
GET A FREE ESTIMATE
King's Power Washing was great. They really know what they're talking about. He guided me through our project so that what could have been an overwhelming thing turned into something manageable. I'm so glad that I called a professional company to do the work! I used to pull up in the driveway and think of all the things I needed to do to my home. Now after a long day of work I can pull up to a bright, beautiful home that makes me smile.
Call
(240) 466-6340
Contact Us for a Free Estimate!
Roof Cleaning in Southern Maryland
We have served Southern Maryland residents for over 15 years and are proud to help our local homeowners keep their properties clean, safe, and welcoming. We take pride in our work and offer a 100% satisfaction guarantee. Our experience and expertise enable us to provide the best possible roof cleaning service in Southern Maryland. Call or fill out our online form to learn more and get your free quote!
Roofing Materials We Clean
Asphalt Shingle
Wood/Cedar Shake Shingles
Metal
Slate Shingles
And More!
What is the Best Way to Clean a Roof?
Power washing is the traditional, widely popular cleaning technique that has been around for years. This method is great for durable materials like concrete and asphalt, but can you power wash your rooftop? 
While power washing is not necessarily bad for your roofing, it can cause severe damage if done incorrectly with the wrong technique and equipment. If done properly, it's an excellent way to remove tough stains, moss, lichen, and more from the surface! 
Soft washing, on the other hand, offers the best of both worlds – it's gentle and won't damage your property but still thoroughly cleans and sanitizes. Our team at King's is soft wash certified and only uses this technique for all rooftop maintenance jobs. This helps us avoid accidental damage and get the job done well, leaving your rooftop spotless. We'll boost your curb appeal with our soft wash rooftop cleaning service!
What is Soft Washing?
The soft wash method uses a lower water pressure setting, similar to that of a garden hose. The power behind this special technique is in the detergents used. These detergents are composed of water, a surfactant (which helps trap contaminants on the surface being treated), sodium hypochlorite/bleach, and algaecides.
Whenever we soft wash a house, we are careful to not damage any plants or vegetation on the property. Before we spray on the chemicals, we gently rinse any plants that may come in contact with the detergents. This gives them a blanket-like barrier against the chemicals.
We rinse the plants and vegetation throughout the entire soft wash process. If necessary, we will cover certain areas with a tarp for maximum protection. Call us to learn more about our soft wash process and how we keep our customers and their properties safe!
Roof Maintenance Checklist
It's important to maintain your rooftop so that it lasts for years and you're not dealing with early repairs! Here is a quick checklist to help get you started:
Inspect the interior of your home for signs of water damage, leaks, mold, and mildew.
Check for and remove dirt and debris, such as twigs, moss, tree branches, etc. These can weaken the roof's surface structure and cause early deterioration.
Inspect the interior of your home for signs of water damage, leaks, mold, and mildew.
Check for soft spots, bald spots (missing shingles), cracking, blistering, abrasions, or corrosion, depending on the type of roofing material you have.
Inspect the flashing (if you have any). Check to see if it's breaking away from the rooftop, which is a sign that there is an issue with the roofing membrane.
Check for clogged drains.
Inspect the chimney, skylights, vents, etc. for deterioration and damage.
Check the gutter and downspout system to ensure rainwater has an easy escape route away from the rooftop.
These are just a handful of steps you can take to ensure your roofing stays in optimal condition. It's a good idea to inspect your roof at least once a year and before and after severe weather. Call us today for professional rooftop inspection and washing. We'd be happy to schedule routine maintenance for you!
Why Do Many Insurance Companies Insist on Stain Removal?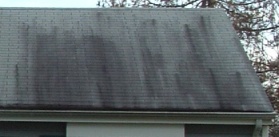 Results in a longer-lasting surface
Prevents a harmful buildup of algae, lichens, and/or moss
Prevents mold from growing in your home
Cleaning not only improves the look of your house but also helps asphalt shingles last their longest. Plus, the debris that collects on the surface holds moisture which will rot your shingles over time.
This type of work involves being comfortable with heights and slippery ground. We are happy to help out with this potentially dangerous task! Don't get stuck on a ladder or worse yet, slip and injure your back! We come with all the equipment we need to take this slippery, messy job off your hands and leave you with sparkling, healthy shingles that will last for many years!
Call
(240) 466-6340
Contact Us for a Free Estimate!
4 Benefits of Roof Washing
Save Money On Repairs
Regular maintenance saves a lot of money on unnecessary repairs. It prevents minor issues from becoming major problems.
Increase Curb Appeal
Curb appeal helps sell a house, keep the neighbors happy, or just make you feel like a million bucks when you are entertaining company. Whatever the reason, call us today!
Save Time
You have a lot on your plate. By delegating this task, you are better able to handle other matters in your life. Power washing requires experience, the right tools, and the skills to clean different surfaces without damaging them. Let our experience save you valuable time.
Real Estate Value
A clean house, that looks good when you pull up, sells.
Period.
Services We Provide
But that's not all we do! Our team is an exterior maintenance machine. Consider King's your one-stop-shop for all the exterior cleaning needs of your home or business.
What Do We Clean?
Roofs

Siding

Windows

Commercial Buildings

Parking Garages

HOA/Multi-Family

Concrete

And More!
Hire the Professionals!
While it might be tempting to tackle this project yourself, it's best to call certified professionals who have years of industry experience and the proper safety equipment. This job requires you to work from heights and can lead to serious injury and property damage if not done correctly. Also, the equipment rentals can get expensive very quickly.
Our team is happy to take care of this for you. We always use the right method for the material, never too harsh or too soft, and guarantee 100% customer satisfaction with our attention to detail and strong desire to make our customers happy on every single job we do. Give us a call or fill out our form today to get started with your free quote!
Frequently Asked Roof Cleaning in SOMD Questions
Is power washing bad for my roof?
It's effective and safe as long as it's done properly, with the right amount of water pressure. If the water pressure is too high, it can damage your roof's surface.
What is your roof cleaning process?
We first protect and cover nearby plants and vegetation that may come in contact with the detergents. Then, we begin spraying the solution at the top of the rooftop, or at the apex, and work our way down.
How often should you clean your roof?
Once a year is best! But if your rooftop is relatively new and is in good shape, then once every two or three years good.
How do you price rooftop cleaning?
We price our services depending on the roofing material and size. Get your free, personalized quote today by giving us a call or filling out our form!
Call
(240) 466-6340
Contact Us for a Free Estimate!