Pressure Washing Owings MD
Power Washing
Soft Washing
Window Cleaning
Roof Cleaning
Gutter Cleaning
Deck Restoration
Grafitti Removal
GET A FREE ESTIMATE
Call
(240) 466-6340
Contact Us for a Free Estimate!
Soft Washing vs. Power Washing: What's The Difference?
Soft Washing
Soft Washing is a method of cleaning that's a lot more gentle on surfaces that won't withstand the powerful pressure of normal pressure washing.
With soft washing, special nozzles are placed on the end of the pressure wand. This reduces the pressure from the thousands in psi to something that resembles the pressure that comes out of your garden hose.
Does it still clean if the pressure is that low?
Yes! This is because, with soft washing, the water pressure isn't what is actually doing the cleaning like it is with pressure washing. The surface is cleaned with a cleaning chemical that kills algae, mold, moss, and other elements from the surface. It also removes common allergens and stains. Soft washing is done so that we don't damage more delicate surfaces with high-pressure water.
Soft washing is done on surfaces such as roofs, gutters, siding, and decks.
Think of this like you would think of dry cleaning your clothes. Some cleaning methods are much harsher on delicate surfaces and require a gentle touch.
Power Washing
Power washing uses the force of high-pressure water to blast dirt and grime off of surfaces. Sometimes this pressure can be up to 4000 psi. 
Power washing is more suited for driveways, patios, and sidewalks because their surfaces are more tolerant of high-pressure water. 
In fact, pressure washing and power washing are mistakenly used interchangeably. These are two different things and each has its own purpose. Pressure washing uses unheated water while power washing uses heated water. Power washing is good for surfaces that might need a little more cleaning power, just like washing your hands or doing the dishes. Heated water cleans better than unheated water. It's not always necessary, though.
The key difference between power washing/pressure washing and soft washing is the agent that is used to clean the surface. With soft washing, environmentally friendly chemicals are cleaning the surface. With pressure washing, the water pressure is what cleans the surface.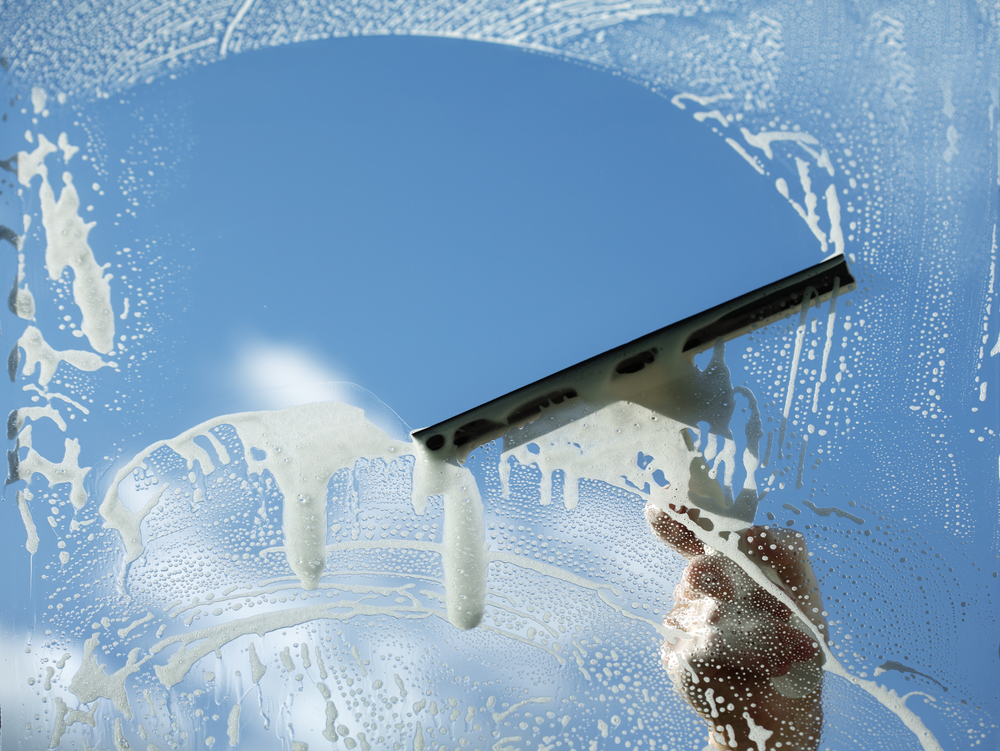 We don't just use the pressure washer to blow everything away! There are times when we need to take a more gentle approach to cleaning.
When your windows need a gentle touch, we've got you covered! 
We do window cleaning using the tried and true traditional cleaning method. We use a scrubber and squeegee to get your windows sparkling clean!
Windows tend to get the least amount of attention. They seem like they're "always" dirty and the average homeowner just gets used to seeing them that way. There's nothing like a fresh window clean to let in some extra light and put you in a good mood!
We offer Residential and Commercial Window Cleaning in Owings Maryland and surrounding areas.
At King's Power Washing we pride ourselves on professionalism, dependability, and attention to detail. When you work with us, you'll get a team that's qualified and dedicated to getting the job done quickly and effectively. When we're done, you'll have windows that are so clean you'll wonder if they're still there!
Professional window cleaning is one of the easiest ways to add curb appeal to your home or business without spending a lot of money. Having clean windows will also save on your lighting bills. You'd be surprised how much more light is let in when you remove all of that dirt and grime that create layers of light blocking film on your windows.
This type of work involves being comfortable with heights and slippery ground. We are happy to help out with this potentially dangerous task! Don't get stuck on a ladder or worse yet, slip and injure your back! We come with all the equipment we need to take this slippery, messy job off your hands and leave you with sparkling, healthy shingles that will last for many years!
Call
(240) 466-6340
Contact Us for a Free Estimate!
Driveways, Patios, and Exterior House Cleaning
The exterior of our homes and businesses is what gets the most pounding when it comes to dirt, mold, mildew, allergens, and other harmful environmental agents. You may not think that there is a point to having the exterior of your home or business cleaned since, well. It's outside! That's totally understandable but that's not true.
Many people don't understand the importance of keeping the exterior of their homes clean. Not only for aesthetics but for your health as well! Just like you would get rid of dirt and allergens on the interior of your home, the exterior also needs some attention! You would be surprised how the cleanliness of the exterior of your home influences the cleanliness of the interior and affects your health. Just sitting outside enjoying an evening while sitting next to siding that has mold and mildew growing on it can be hazardous to your health! Many of the substances that get into the home are on the concrete in your driveway also. 
A pressure washer can quickly restore the exterior of your home to its former beauty.
Driveways
Over time, your driveway can get really dirty. Stains from vehicles such as oil and other debris and fluids can really make your driveway look dingy and dirty.
Not only do stains and other debris make your driveway look bad, concrete driveways become worn down from extreme heat and cold. The stress of winter with the accumulation of road salt also contributes to the deterioration of your driveway's condition. Left unwashed, stains can weaken your driveway and lead it cracking, discoloration, or other deterioration.
Curb Appeal. Studies show that having a clean driveway, walkway, and sidewalk in front of your home can increase your home's value by $10k, maybe more depending on the size! Why invest time and money in making sure that your siding and roof look great and then leave your driveway dirty? Make sure your driveway doesn't become an eyesore even if you're not selling your home.
Are you ready to restore your driveway with a professional power wash? King's Power Washing can make your driveway sparkle like it did when the pavement was first laid.
Patios
King's Power Washing offers patio cleaning in Owings Maryland and surrounding areas. 
Our service technicians are trained and equipped to clean any type of patio surface whether it be concrete, brick, or stone. An appropriate pressure and cleaner is applied to each surface to make sure things such as dirt, algae, and other contaminants are cleaned from your patio. 
Patios are a great place for friends and family to get together and create memories. The patio is often where a family spends time in nice weather celebrating birthday parties, barbeques, and more! 
It's very simple to get your patio cleaned. All you need to do is call King's Power Washing and schedule a time for us to come out and get the job done. You don't even need to be home when we're there! We guarantee your satisfaction with the best results possible using our safe and effective processes. 
Siding
One service can make your home look completely different. With help from the professionals at King's Power Washing, your home can look like the best one in the neighborhood with curb appeal that's out of this world!
Often, people report that they were originally thinking about replacing their siding. They don't think that a wash can take care of green stains from algae and the black streaks from the buildup. These create an eyesore and seem very permanent. 
It is very important to maintain your home's curb appeal and property value. Spending tons of money on a siding replacement isn't always necessary unless there are structural issues with the siding itself. King's Power Washing has a better way. 
Our technicians use a soft washing technique to clean your exterior without ever damaging it. Using high powered pressure washing can damage your exterior, windows, and screens. It can even cause water to get into places it shouldn't be such as behind your siding and cause mold and mildew problems in the future. 
We use a gentle technique with pressures less than 500 psi to gently go over your home and wash away the harmful substances sticking to your siding. 
Give us a call for an estimate!
Roof Cleaning Owings, MD
Your home in Owings is a major investment and your roof is part of that. You may not see the roof all of the time but it still needs a good cleaning from time to time to protect the shingles. Our soft wash treatment kills any harmful mold and mildew growing up there and improves the look of your shingles.
We're happy to clean the roofs in Owings MD. We love making the homes in our community shine! Give us a call if your home or business needs a good roof wash.
Why Get Your Roof Cleaned?
Save Money On Repairs
Regular maintenance saves a lot of money on unnecessary repairs. It prevents minor issues from becoming major problems.
Increase Curb Appeal
Curb appeal helps sell a house, keep the neighbors happy, or just make you feel like a million bucks when you are entertaining company. Whatever the reason, call us today!
Save Time
You have a lot on your plate. By delegating this task, you are better able to handle other matters in your life. Power washing requires experience, the right tools, and the skills to clean different surfaces without damaging them. Let our experience save you valuable time.
Real Estate Value
A clean house, that looks good when you pull up, sells.
Period.
Power Washing Calvert County Maryland
Areas in Calvert County and Southern Maryland We Service
Dunkirk
Huntingtown
Lusby
Solomon's Island
Owings
Broomes Island
Chesapeake Beach
St. Leonard
North Beach
Graffiti Removal
If you own property there's a chance that it might get vandalized at some point. If it happens, King's Power Washing in Owings MD has the tools, training, and cleaning solutions to completely remove graffiti made with all kinds of substances. Whether it's spray paint or marker, we can completely remove graffiti and have your home, business, or vehicle looking like its original condition!
When removing graffiti, you definitely want to call a professional service. If you use the wrong chemical on the wrong surface or the wrong type of paint, you could end up with very unexpected results. There are many types of surfaces and many types of paints. Getting this combination right will ensure that the graffiti is removed safely and completely. 
Call us for an estimate!
Counties in Southern Maryland We Service
Calvert County
St Mary's County
Anne Arundel County
Prince George's County
Charles County
What Are You Still Doing Here?
Are you still reading? Chances are you searched for a Power Washing company because you need soma major exterior cleaning. Now that you know that we're a full service Power Washing company that has your best interests and the bests interests of your property in mind the only thing left to do is pick up the phone! We have super friendly staff who are looking forward to speaking with you. 
Call
(240) 466-6340
Contact Us for a Free Estimate!
King's Power Washing
Average rating:
7 reviews
Nov 1, 2019
I love the job King's Power Washing did with my driveway. Thanks so much!
Oct 26, 2019
We hadn't used the back of our house for years. There was so much dirt back there and everything was overgrown. After some landscaping, we called King's to power wash the patio. It came out way better than we expected!
Oct 20, 2019
I work with King's all the time on my investment properties. They never let me down! They're very reliable!
Sep 23, 2019
Couldn't have asked for better service and better people. My roof is very clean!
Sep 13, 2019
King's Power Washing is awesome! They worked really hard and got the job done.
Jul 10, 2019
The best in the business!
Apr 4, 2019
If you're looking for a great power washing company, I would recommend King's Power Washing. They're the best!