Gutter Cleaning
Free Estimates

Soft Washing Certified

5-Star Ratings on Google

1500+ Happy Customers

15+ Years of Experience

Competitive Pricing

100% Satisfaction Guarantee

Contractors You Can Trust
GET A FREE ESTIMATE
King's Power Washing was great. They really know what they're talking about. He guided me through our project so that what could have been an overwhelming thing turned into something manageable. I'm so glad that I called a professional company to do the work! I used to pull up in the driveway and think of all the things I needed to do to my home. Now after a long day of work I can pull up to a bright, beautiful home that makes me smile.
Call
(240) 466-6340
Contact Us for a Free Estimate!
The Importance of Using a Gutter Cleaning Company
Many fail to recognize that gutter cleaning is essential to your home maintenance routine. Your gutters are part of your roof and should be looked after and cared for just as well.
The Damages Caused by Clogged Gutters
Water damage to your roof and fascia
Overflow can damage your foundation, basement, or crawlspace.
Creates a perfect breeding ground for insects, small weeds, mildew, and mold.
Your First Line of Defense
How can you prevent those things from happening to your home? Your home's drainage system is the first line of defense against heavy rain and wind, especially during spring and summer storms. So protect your home and keep your gutters clean!
Our Gutter Cleaning Techniques
As professionals, we understand what it takes to exceed our client's expectations: excellent work, quality service, consistent business practices, and complete honesty with every job that we do.
We're locals to the St. Mary's County area. That means we're not some franchise looking to make the big guys money. We're honest hard-working members of the community that want to deliver high-quality service to our neighbors.
We are ready to deliver our 5-star service to you and get your gutters functioning as they should. Our team follows a 4 step process to leave you with the best results.
Our skilled employees begin by cleaning the gutter near a downspout.
Remove any large debris, with a trowel and a bucket.
Clean out finer materials and flush the entire system.
Leave our customers with highly functioning gutters that drain properly.
How Often Should I Clean My Gutters?
Immediately if gutters are full
1-2 times a year if you don't have much foliage nearby
Every 3 months if you have dense foliage close to your home
Every house is different. It depends on the number of tall trees you have, as well as wind conditions. When gutters are full, debris should be removed immediately not to cause build-up and potential damage to your home. Contact us for our special routine maintenance pricing.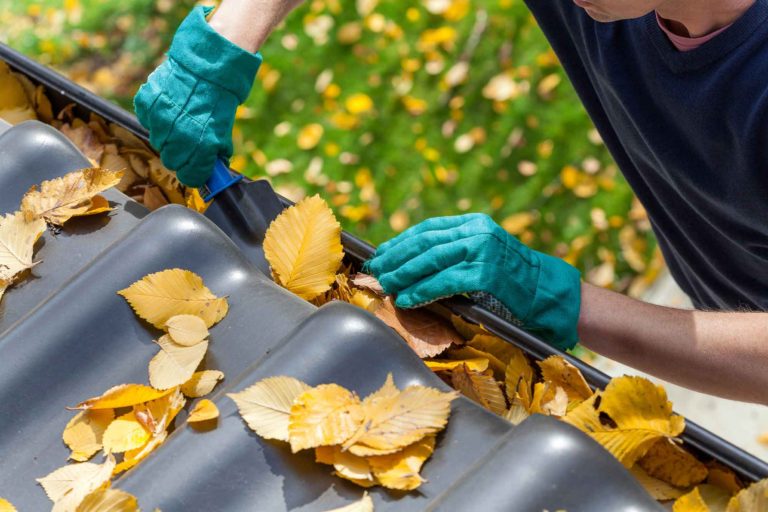 How Can I Check My Gutters?
If we are at your home power washing or cleaning your roof, we can assess your gutters for you! No need to pull out the ladder and risk getting injured. Just ask us when we are at your home and we'll let you know the current condition of your gutters and if it's time for them to be cleaned out.
This type of work involves being comfortable with heights and slippery ground. We are happy to help out with this potentially dangerous task! Don't get stuck on a ladder or worse yet, slip and injure your back! We come with all the equipment we need to take this slippery, messy job off your hands and leave you with sparkling, healthy shingles that will last for many years!
Call
(240) 466-6340
Contact Us for a Free Estimate!
The Risks of DIY Gutter Clearing
Before you keep reading, we want to say… Don't do it! How often do you work from a ladder? Trying to clean your own roofing-drainage system has many risks. But if you decide to do it yourself, here are three things you should avoid to stay safe.
Think you're a tough guy and not tell anyone.

 

 It's best practice to do any type of ladder work when others are around. If no one is nearby, at least let a family member or friend know you'll be working up high. If you do fall, you'll be happy you let someone know.
Use a ladder that's seen better days.

 

Make sure the ladder is stable and secure. And whatever you do, please don't work from a wobbly ladder! There are all kinds of warnings out there about working from the top step of the ladder. It's a bad idea. Please heed the warnings.
Think you don't need gloves.

 

If you're using a scooping tool, you're still going to have to touch whatever's been living in your gutters. Depending on how long it's been since you've had them unclogged, it could get… interesting. Be safe. Wear gloves.
4 Benefits of Gutter Clearing
Save Money On Repairs
Regular maintenance saves a lot of money on unnecessary repairs. It prevents minor issues from becoming major problems.
Increase Curb Appeal
Curb appeal helps sell a house, keep the neighbors happy, or just make you feel like a million bucks when you are entertaining company. Whatever the reason, call us today!
Save Time
You have a lot on your plate. By delegating this task, you are better able to handle other matters in your life. Power washing requires experience, the right tools, and the skills to clean different surfaces without damaging them. Let our experience save you valuable time.
Real Estate Value
A clean house with tidy gutters looks good when you pull up. And that sells.
Period.
Services We Provide
But that's not all we do! Our team is an exterior maintenance machine. Consider King's your one-stop-shop for all the exterior cleaning needs of your home or business.
Roofs

Gutters

Siding

Windows

Commercial Buildings

Parking Garages

HOA/Multi-Family

Concrete

And More!
We take care to always use the right method for the material, never too harsh or too soft.
Power/Pressure Cleaning
Soft Washing
Call
(240) 466-6340
Contact Us for a Free Estimate!
King's Power Washing
Average rating:
3 reviews
Apr 29, 2019
Kings stands out from the rest. I understood what they were doing with the gutters and why, and their insurance made me feel better about using them.
Nov 23, 2018
These guys are so professional. I wasn't expecting too much from a gutter cleaning service. But they were very detail oriented. I will use them again for sure.
Aug 15, 2018
These guys saved my home from flooding! i called them in a hurry noticing my gutters were full after a storm, and they came right away! 5 stars!!